Dana Point Offers World-Class Whale Watching With Small Town Charm
Dana Point sits on the scenic coast of Orange County, known as the California Riviera. With its beautiful coastline, friendly and laid-back atmosphere, and mild climate year round, Dana Point is the perfect Southern California destination and the best place for dolphin and whale watching!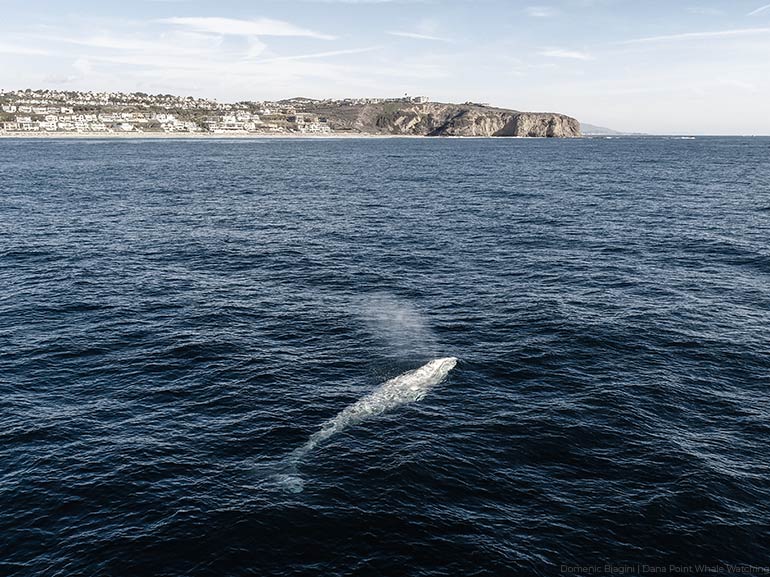 Location, Location, Location
One of Dana Point's featured attractions is the historic and romantic Dana Point Harbor, from which whale and dolphin watching tours depart. It's only a few minutes to the harbor entrance and you're in open ocean! Keep your eyes sharp because some dolphins and whales can be found right outside the harbor jetty! Gray whales making their annual migration are thought to use Dana Point's headlands as a guide during their 12,000 mile journey.
Dana Point Harbor is conveniently located just minutes south of Laguna Beach and only 40 miles from Disneyland. Dana Point whale watching trips offer both visitors and residents alike the opportunity to enjoy whales, dolphins, sea lions, and so much more.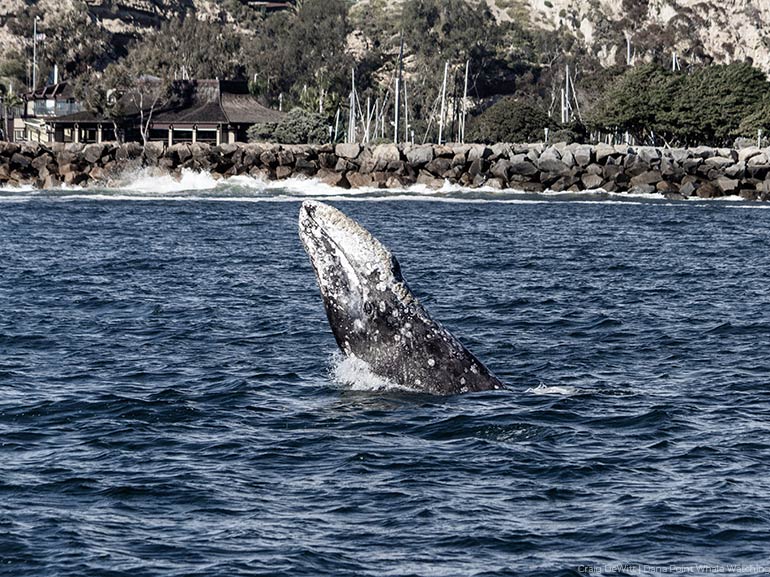 Whale, Hello There
Within five miles of the shore lives a vast eco-system of abundant marine wildlife. Southern California has more wild dolphin than anywhere else in the U.S., including Alaska, Hawaii and Florida combined. With over 400,000 in just one species alone, it's not unusual to see pods of 1,000 or more, and even mega-pods of dolphins as large as 10,000!
Around 2,000 rare and endangered blue whales, the largest animal on earth, spend the summer and fall off southern and central California. There are more blue whales here during the summer than anywhere else in the world. Guests aboard Dana Point whale watching tours can experience magnificent blue whales between May and November, as well as a host of other whales and dolphins.
During the winter and spring Dana Point whale watching trips enjoy the gray whale migration.
And throughout the year humpback whales, fin whales, minke whales, and much more can be seen
Weather
Dana Point may have one the best whale watching climates in the world. There are places like New Zealand that have sperm whales year round, and other whales different times of the year, but the weather is so terribly unreliable that they may have to cancel over 30 percent of their trips. The Azores have year round whales too, but they don't even run trips in the winter because of the weather. Hawaii is famous for whale watching in the winter, when humpbacks migrate there for mating and calving, but the islands don't see baleen whales in the summer. Only here in Dana Point, just a few miles from shore in normally calm seas, can you see huge herds of dolphin and the largest animals that ever lived all year long.
When it comes to year-round wildlife sightings, great weather, and easy accessibility, Dana Point whale watching wins five stars.
Dana Point Whale Watching
Dana Point, California, USA
The Dolphin & Whale Watching Capital of the World®